Mirador Las Palmas | Colombia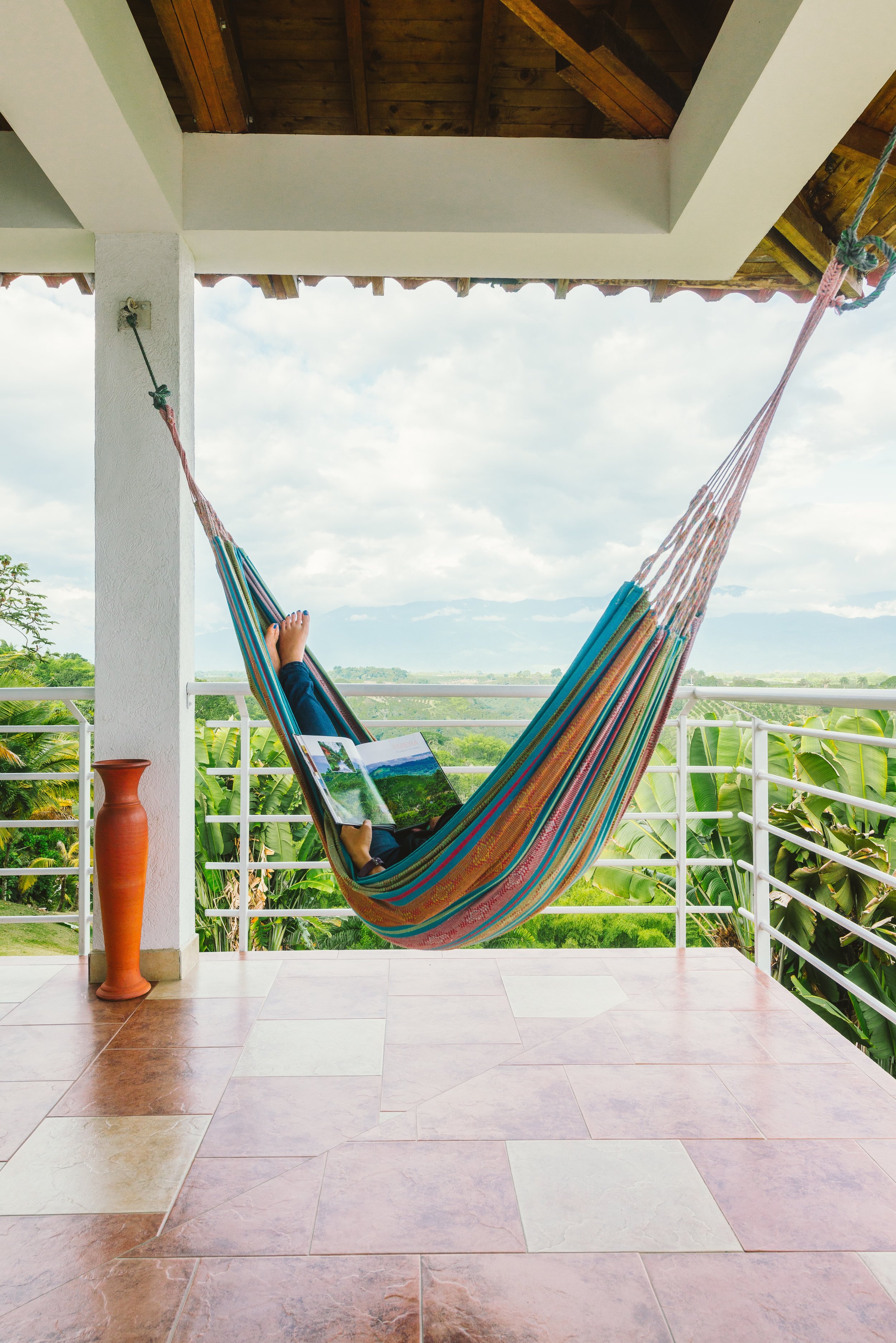 Panoramic views of lush, verdant mountainscapes define the boutique Mirador Las Palmas Hotel, located in the municipality of La Tebaida in the Colombian department of Quindio. A prime prospect for an unmatched luxury retreat, the property enjoys uninterrupted vistas across the valley dotted with farmland and forests to the mountains beyond, perfectly situated to accommodate wellness travel or high-end ecotourism. Mature trees and tropical greenery surround the existing structures, including an on-site restaurant, infinity-edge pool, and expansive deck for guest enjoyment and dining.
The Mirador Las Palmas Hotel boasts consistent occupancy and is highly rated by visitors, earning rave commentary for its spectacular setting, while also enjoying accessibility to day-trips and activities, the capital city of the district, and a commercial airport. Current maximum occupancy is 96, however there is the potential to build an additional 80 rooms or townhomes. The current hotel encompasses a mix of 24 rooms and suites, and private balconies to deliver optimal exposure to the surrounding landscape. Benefitting from a tropical climate combined with elevation at approximately 4000 feet, the hotel is able to welcome guests year-round, and is a frequent venue for weddings and other events.
This is an exclusive opportunity for a strategic investor to acquire an established, reputable business with consistent revenue, and should be particularly alluring to buyers with the vision to develop the property to its full potential, through a combination of thoughtful renovation and expansion. Take full advantage of the ever-growing movement of tourism, particularly originating from the United States and Europe, with a strong focus on wellness resorts and eco-friendly travel. The geography of the hotel offers immediate, unmatched desirability, and the current infrastructure is primed for growth in line with your long-term objectives.
La Tebaida is an historically agricultural region, and is still well-regarded as a leading producer of citrus locally and, of course, the coffee plantations that have made Colombia famous internationally. Visitors to the area enjoy the varied terrain and welcoming climate, conducive to outdoor activities such as hiking, cycling, and horseback riding. There is a rich cultural and culinary heritage to the area, as well, with restaurants and cafes located nearby. Whether seeking a relaxing rural getaway amid untouched natural beauty or desiring a more adventurous approach with guided activities and recreation, there is little that time spent in La Trebaida won't or can't fulfill.
The Hotel has been repeatedly recognized for its excellence and is exquisitely positioned to deliver ample return on your investment for years to come. From the photos, even prior to arriving on-site, you'll be entranced and transported. Imagine yourself ensconced in a luxurious mountain-view suite, waking to the low clouds nestled in the valley, spending your days in the spa or participating in any number of perfectly curated excursions, and closing the evening at a private dinner table laden with the finest in local cuisine. If you can render such a refined vision from pictures and video alone, then imagine the experience of your guests who walk through the doors knowing, finally, they have arrived at their desired destination, the Mirador Las Palmas.